The tour includes:
1. The Venetian port with the fortress of Koules (1000 years old)
2. Morozini square (venetian fountain)
3. Open market area with domestic products.
4. The Cathedral church of Saint Minas (largest in crete,120 years old)
5. Venetian wall
6. Kazantzakis tomb (famous cretan author)
7. Archeological museum of Heraklion
8. Knossos palace (5000 years old)
The Palace of Knossos: one of the most advanced cities of ancient Greece and the center of the famous Minoan civilization. The palace of Knossos was the heart of the city and the seat of the legendary King Minos. This brilliant palace was the work of the mythical architect Daedalus. It is connected with great legends like the story of Daedalus and Icarus, the Labyrinth of the terrible Minotaur and the love story of Theseus and Ariadne. The first excavations were made in 1878 by Minos Kalokairinos. Followed by the excavations conducted by the Englishman Sir Arthur Evans, who uncovered the whole palace. Impressive variety of building materials, colored stucco, marble decorations and frescoes decorate rooms and hallways.
Archeological Museum of Heraklion: one of the largest and most important museums in Greece, and among the most important museums in Europe. The museum brings together archaeological finds from all over Crete, covering the island's history for more than 5500 years. Leading position among them possess the treasures of the Minoan civilization. The collection of Minoan antiquities is the most important in the world and the museum is fairly considered par excellence museum of Minoan civilization.
Morosini Fountain: (The so called Lion's fountain). One of the most known fountains of Heraklion, point of reference for its inhabitants, but also for the visitors. Today it is one of the most beautiful monuments of the city. The «General Provisioner» Francesco Morosini made it in 1628, who, within a complicated for that period, system of pipes he managed to bring water from the Archanes' springs to the thirsty town of Heraklion. The eight-lobe cistern, which is based on a special stand, is decorated with embossed mythological depictions and maritime figures like tritons, dolphins and various coats of arms, while the water was flowing from the mouths of four lions. At the very top of the fountain there was a supernatural statue of Poseidon that was standing out but fell probably due to an earthquake. During the Turkish period the fountain went into a vulgar modulation with the addition of a baldachin (ciborium) around it which was later taken away. Morosini, on the occasion of the inauguration coined a special medal with his figure from one side and the fountain on the other.
Tour duration: 4 Hours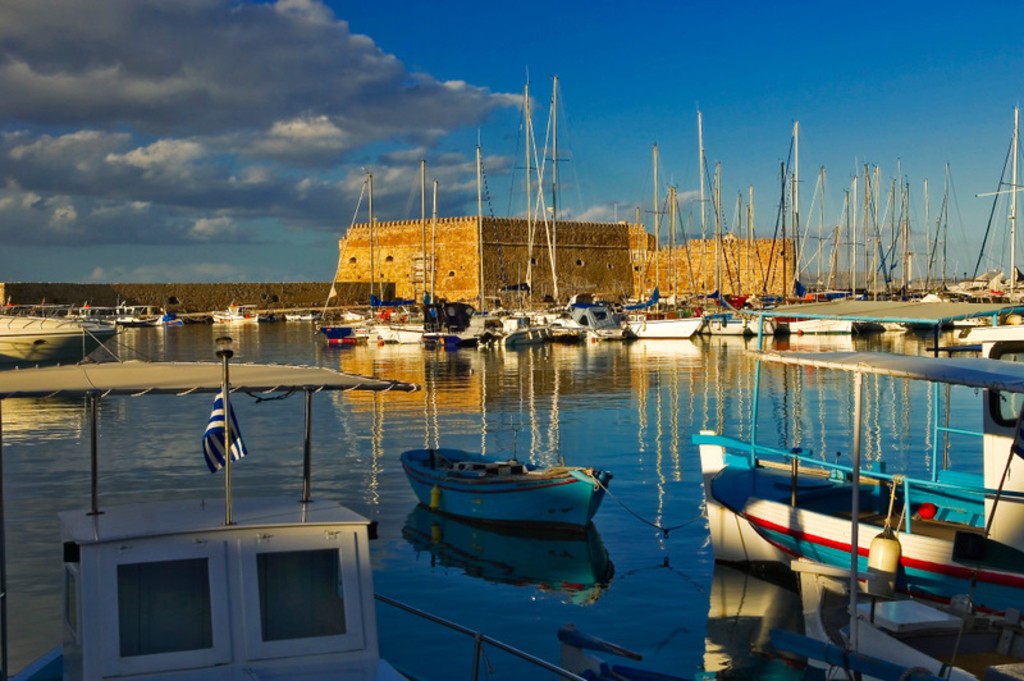 Heraklion town Venetian port